Pirelli has revealed the tyre compounds that teams will have available in the Qatar GP. In addition to this, there are details on the total laps completed on each tyre.
Today's Qatar GP will likely become a race of survival, as drivers are forced to complete a maximum of three pit stops. At the Losail circuit, where soft tyres can drop off almost immediately, having fresh medium or hard tyres will be crucial.
As a result, drivers with additional sets of tyres will have an advantage. This is especially true of the yellow rubber – since the hards are widely expected to be significantly slower.
These are the full allocations available to the drivers:
Of equal importance are the laps left on each compound of tyre – based on the FIA's 18-lap limit: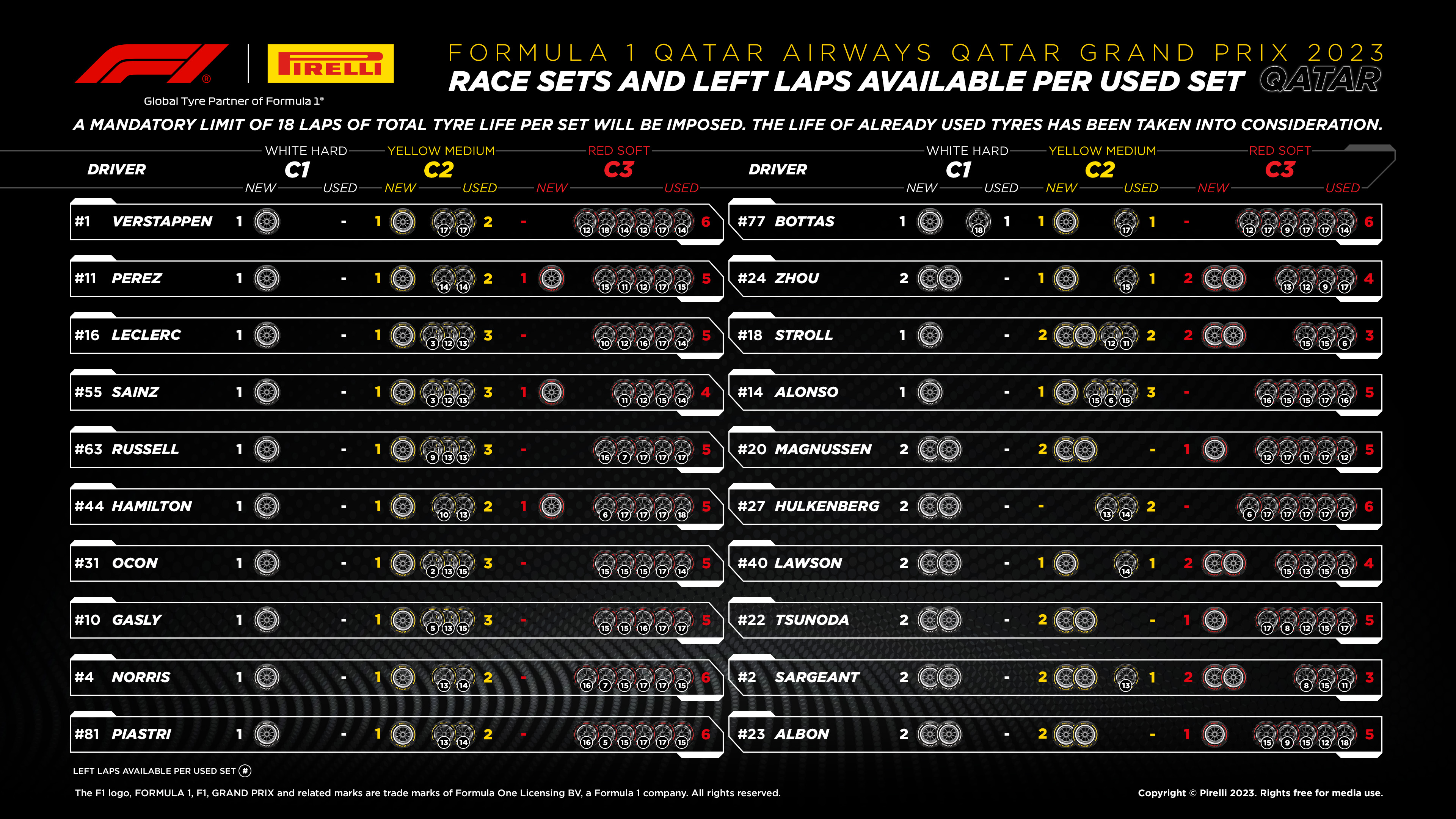 On paper, there are plenty of concerns across the field. For those with limited sets of medium or hard tyres, absolute performance will be compromised.
The Saturday Sprint was evidence that running the fastest compound could be a catastrophic decision. As a result, today's Grand Prix will likely be determined by those capable of avoiding mistakes and preserving their tyres.
Safety Car timing will also be instrumental, given the frequency of incidents at this. It is possible that several teams follow a similar strategy, depending on how effectively the medium tyres can hold up.
However, given there could be close to 100 pit stops in the race, some variety is also guaranteed. Teams further down the field could have an advantage – with the likes of Alfa Romeo and AlphaTauri enjoying several fresh sets of tyres.
The first lap will also be instrumental, with excessive dust off-line compromising about half the grid when the lights go out. Even after Turn 1 is negotiated, Lando Norris demonstrated on Saturday the limited off-track grip later in sector 1.
All in all, there are several unknowns for teams to calculate and prepare for. Ultimately, whilst this will be important, a combination of driver skills – good instincts and luck will surely be the winning combination.
Author: Jaden Diaz-Ndisang